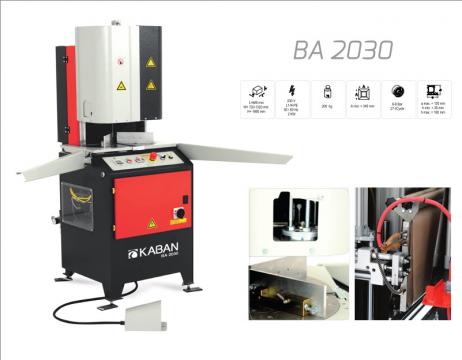 SINGLE HEAD WELDING MACHINE
Single corner welding of profiles between 30°-180°.
• Smooth welding of long profiles thanks to rotating support arms.
• All heat and time parameters are set independently.
• Practical mould change system.
• Stainless steel, long lasting plates.
• Digital setting of heating values.
• Piston stroke is adjusted according to profile height through stoppers.
• Time saving while profile is clamped as the stopper is adjusted 3-5 mm higher than profile.
• Practical teflon change thanks to roller system.
• Stable heat distribution and long lasting heater plates distributes the heat homogenously.
• Standard zero (0,2mm) welding. It can be adjusted to normal welding.
• Continous precision of welding quality thanks to linear rails.
• The product has patented features.
A weboldalon ábrázolt gépek folyamatos fejlesztés alatt állnak, fenntartjuk a jogot a méretek és a tervek módosítására. Az ábrák eltérhetnek a gépek aktuális változatától és / vagy tartalmazhatnak feláras opciókat.