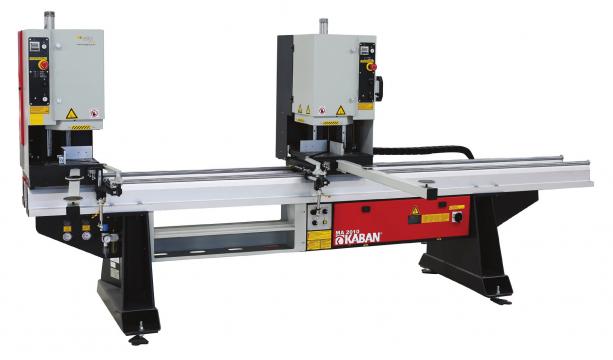 Dvojhlavová zváračka s nastaviteľným uhlom
- Precise double corner welding of PVC profiles between 40°- 180°.
- Welding with single head is possible.
- Independent adjustment of heating degree and time parameters.
- Selecting zero or normal welding chip thickness easily thanks to practical adjustment system.
- Saving time with practical welding mould replacement system.
- Safe working with low pressure top pressing pistons.
- Pressure control system allows the machine to run with correct air pressure.
- Time and expense save thanks to roller-shaped Teflon system.
- Long-life heater plate distributes the heat homogeneously.
- Practical adjustment with rotating mechanical profile table.
- Top press adjustment stopper mechanism adjusts the distance between the profile to be weld and top press system. So the operation time shortens and a safer operation is obtained. (Patented).
A weboldalon ábrázolt gépek folyamatos fejlesztés alatt állnak, fenntartjuk a jogot a méretek és a tervek módosítására. Az ábrák eltérhetnek a gépek aktuális változatától és / vagy tartalmazhatnak feláras opciókat.